Which Mercedes van is right for me, the Sprinter Van or Metris?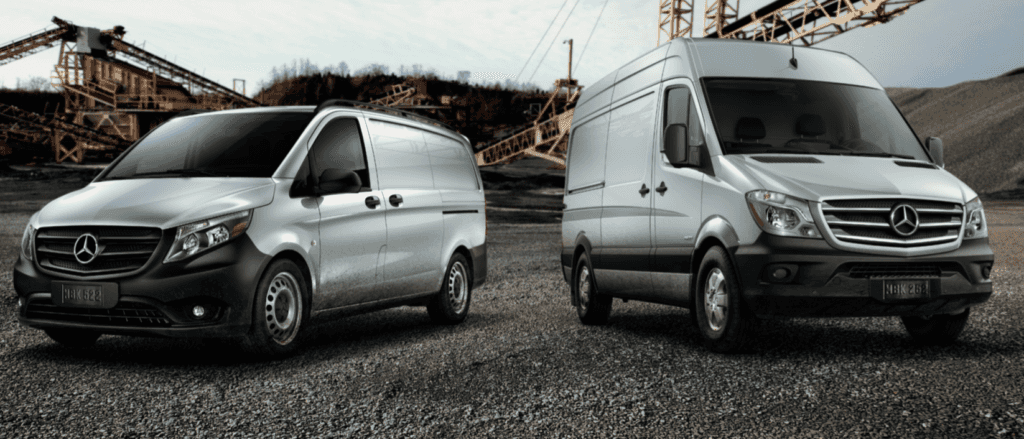 When choosing a Mercedes Van, you have many options. You can go big and bold with the popular Sprinter Van, or you can opt for nimble size and cargo or passenger-carrying ability of the Metris.
The new Metris is the first mid-size commercial van from Mercedes-Benz. The Metris is available as a passenger van or cargo van and is a great choice for business owners or individuals who need to haul oversized loads, or a small group, but still want a vehicle that handles like a car and can fit into typical urban garages.
The Mercedes-Benz Sprinter is among the most popular commercial vehicles in the world. Various options available for Sprinter Vans make them highly customizable to fit many different commercial or recreational needs.
Let's take a closer look at both the Metris and Sprinter Van and compare side by side key features for each:
The Basics
The 2016 Mercedes-Benz Sprinter van is available in five models:
Cab (cutaway/chassis used as foundation for customization)
Cargo (two front passenger seats with empty cargo area)
Crew (accommodates up to five passengers with seats)
Passenger (accommodates up to 12 passengers)
Minibus (transport up to 19 passengers with customizable seating arrangements)
The 2016 Metris Van is available as a cargo van or passenger van (able to transport up to eight people)
Size
The Metris cargo van includes 186 cu. ft. of cargo volume and 111.5 inches of cargo length. It's max payload is 2,502 lbs. and it has a 4,960-lb towing capability. Standard height of the Metris is 75.2 inches (cargo) and 74.4 inches (passenger) and a 126-inch wheelbase. The Metris is designed to work as a commercial van, but is small enough to easily maneuver in tight spaces and low parking structures. The Metris also has a best-in-class 38.7-foot turning radius.
The Sprinter Van includes about 330 cu. ft of cargo volume and its max payload is about 4,460 lbs. Sprinter Cargo Vans also can tow up to 7,500 lbs. There are two Sprinter van wheelbases available: 144 inches and 170 inches (with optional extended wheel base).
Features
The Mercedes-Benz Metris Van includes many features that help keep the driver and passengers comfortable and safe. Its Automatic Climate Control System, Multifunctional Steering Wheel and car-like interior design was created to provide ample storage, flexibility and comfort. The Metris also features a built-in 5.8-inch color display screen, Bluetooth® phone system, USB connections and iPod interface in order to keep you connected to the world while you are on the go.
Other key features of the Metris include standard sliding doors on both sides, which feature a 37.8-inch opening width.
The Sprinter Van features a refined, car-like interior that includes an optional multifunction steering wheel, high gloss panel and handsome dash with storage. You can stay connected in the Sprinter with its 5.8-inch color display, Bluetooth® telephone system and iPod interface. An optional Becker MAP PILOT® Navigation System offers integrated map and navigating functions.
Safety Features
Safety is at the heart of all Mercedes-Benz vehicles and its lineup of van is no different. Each van is outfitted with the most innovative and cutting-edge safety technology available. Each system is designed to keep the vehicle safe, along with its cargo and passengers, as well as prevent accidents. Here are safety features available in both the Sprinter and Metris:
Crosswind Assist, which comes standard, helps reassure that the van and its cargo stay safely on the road, even when strong gusts of wind threaten at highway speeds.
Attention Assist helps prevent drowsy driving by alerting the driver if his or her driving patterns are erratic.
Load-Adaptive Electronic Stability Program (ESP®) comes standard on all Metris Vans. This feature helps keep the van stable by automatically braking individual wheels and reducing engine power if wheelspin or understeer is detected.
Lane Keeping Assist is a feature that monitors driving patterns and alerts the driver when he or she unintentionally veers across visible lane markings.
Active Parking Assist helps the driver maneuver into tight parking spaces. The system automatically operates the accelerator and brake.
Parking is even easier with a Rear View Camera. This visual aid helps the driver see what's behind the vehicle as they maneuver into or out of parking spaces.
Blind Spot Assist utilizes a radar detection system to monitor the sides of the van and alerts the driver if a another vehicle is detected.
Collision Prevention Assist helps prevent rear-end collisions by providing warnings to the driver when vehicles that are traveling in front of your van come dangerously too close. The system also can apply automatic brakes, in order to avoid a collision.
Van passengers can stay extra safe in the event of a crash with Driver and Front Passenger Airbags
Sources:
http://assets.mbvans.com/Mercedes-Benz-Vans/Brochures/2015-Mercedes-Benz-Metris-Van-Brochure.pdf