New AMG® Mercedes Vehicles Available in 2016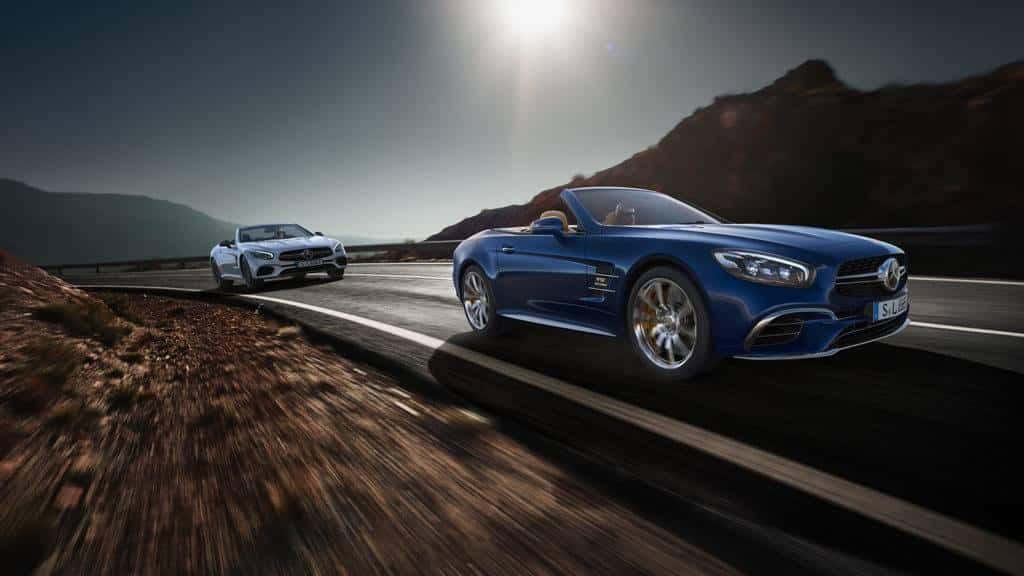 A new year means a new crop of Mercedes-Benz AMG® models. In 2016 several new, exciting AMG®s will debut in the United States. These new models are the latest additions to an already amazing line up of high-performance, sporty AMG® Mercedes vehicles. AMG®s are powerful and stylish, designed for high performance and feature hand-crafted engines made by specially trained craftsmen in Germany.
Mercedes-Benz's sports car and high-performance brand vehicles are designed and created according to the strictest of quality standards and are coveted by car enthusiasts around the world.
Let's take a closer look at the AMG® Mercedes Vehicles that will be available in 2016.
AMG® S 65 and AMG® S 63 Cabriolet
The ultimate Mercedes-Benz drop top is hitting dealerships in 2016. The S-Class Cabriolet is the first four-seater convertible offered by Mercedes in 45 years. The AMG® version – the S 63 4MATIC® Cabriolet – is an all-wheel drive vehicle with a 5.5-liter V8 biturbo engine which can deliver 577 horsepower and up to 664-lb/ft of torque. The dream drop top can go from 0 to 60 mph in 3.9 seconds and has a top speed of 186 mph. This is the first time in Mercedes history that it is offering a four-seater Cabriolet with this type of engine.
Car enthusiasts will love its blend of high-performance technology and expressive exterior and stylish interior. While the convertible is inherently heavier, Mercedes has created innovative solutions to reduce the vehicle's overall weight through the use of lightweight lithium-ion batteries and AMG® light-alloy wheels. Additionally, large parts of the shell, the front section and vehicles rear end are all made of lightweight aluminum.
The AMG® S 63 comes with the AROMATIC full-support air suspension that includes an adaptive damping system, which can be set with the touch of a button to either "Sport" or "Comfort."
Zooming down the road with the top down doesn't mean it has to be chilly. The AMG® S 63 features a special AIRCAP® wind protection system and AIRSCARF® neck-level heating as well as heated armrests, seat heating and self-adjusting intelligent climate control. The new climate controls will allow for an extended open-top driving season.
Debuting at the 2016 Detroit Motor Show, the AMG® S 65 Cabriolet is an even more supped up version of the AMG® S 63 Cabriolet. The S 65 will feature a 6.0-liter twin-turbo V12 engine with 630 horsepower and up to 738 lb/ft of torque.
The new 2017 AMB S 63 Cabriolet will be available in the U.S. in late spring 2016. The Mercedes-AMG® S 65 Cabriolet will be available in Europe in the summer, but a U.S. release has not been announced as of this writing.
AMG® C 63 Coupe
This muscular coupe sports flared front and rear wheel arches combined with a wider wheel track and larger wheels that provide for improved lateral acceleration, traction and agility. Altogether, the new AMG® C 63 Coupe is both stylish and highly agile. Mercedes-Benz's legendary driving performance is taken to new heights with this model's standard 4.0-liter V8 biturbo engine with 469 horsepower or available with 503 horsepower with the C 63 S version.
The road-hugging ride in the AMG® C 63 is both powerful and smooth as it includes AMG® RIDE CONTROL suspension with electronically controlled shock absorbers. Also, the AMG® DYNAMIC SELECT transmission modes, rear-axle limited-slip differential and dynamic engine mounts all factor in to this model developed by AMG®.
The C-Class is Mercedes' best selling AMG® model. Since its launch in 2011 the C-Class Coupe has become a popular line, particularly with the C 63 AMG® Coupe Black Series. The new C 63 is the next step in the progressive development of the C-Class.
Its exterior takes cues from the S-Class Coupe and includes a completely redesigned rear end with a diffuser insert that is inspired by the world of motor sport. Two chrome-plated tailpipes puts a finishing AMG® touch at the rear. The trunk lid is topped off with a narrow spoiler with a sharp blade that not only looks great, but also functions to significantly reduce rear-axle lift.
The interior features motor-sport-like controls and finishes that are unique to AMG®s. In addition to the standard sports seat, there are Performance seats also available that offer lower seating and more aggressively contoured bolsters that provide extra lateral support.
The 2017 AMG® C 63 Coupe will arrive at dealerships in spring 2016.
AMG® GLS 63
Dubbed the "S-Class among SUVs" the new GLS is the new full-sized seven-seater SUV by Mercedes-Benz. The AMG® version, the GLS 63 offers more power and dynamism. It is equipped with an engine with a peak output of 577 horsepower. It also features independent suspension and the revised AMG® SPEEDSHIFT® PLUS 7G-TRONIC transmission.
The AMG® GLS 63 comes standard with a rear-based AMG® Performance all-wheel drive and AMG® DYNAMIC SELECT transmission modes, which allow for driver flexibility.
On the exterior the AMG® GLS 63 sports bigger wheels and sporty styling and plenty of chrome. The interior offers a roomy cabin with three rows of seating — space for seven. Wood and leather trims throughout makes the AMG® GLS 63 particularly lush. A newly-designed instrument panel includes a media display, a three-spoke multifunction steering wheel, modified center console with touchpad and new trim options. Also, available for the first time — GLS sports seats in exclusive nappa leather finish, graduated instrument dials in Checkered flag look and brushed stainless steel sports pedals with rubber studs.
Amazing safety features will keep your seven passengers safe. Standard driver assistance systems include:
COLLISION PREVENTION ASSIST PLUS
Crosswind Assist
ATTENTION ASSIST®
Also available:
PRESAFE®
Brake Assist BAS®
Electronic all-wheel drive traction system
Orders are being taken for the GLS, with deliveries expected in the U.S. in late-March, 2016.
Sources:
http://www.superyachts.com/luxury/2016-mercedes-amg-s65-cabriolet-unveiled-3373.htm
http://www.mbusa.com/mercedes/future