Mercedes-Benz of The Woodlands Wins 2018 Customer Satisfaction Award
Mercedes-Benz of The Woodlands Wins 2018 Customer Satisfaction Award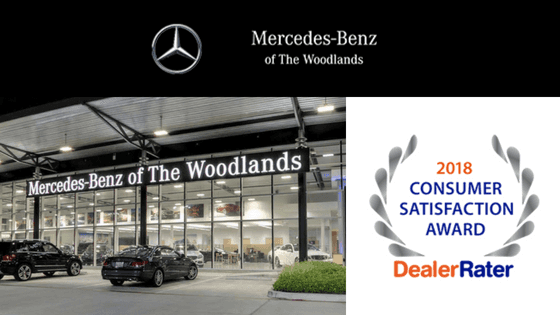 Mercedes-Benz of the Woodlands recognized by DealerRater.com

HOUSTON, TX, May 17, 2018 – Every year, DealerRater.com recognizes the top 10% of car dealerships in the US and Canada with their Consumer Satisfaction Awards. The Consumer Satisfaction Awards recognize outstanding customer service among new car dealers and pre-owned car dealers. Locally, this award has gone to Mercedes-Benz of the Woodlands for the second year in a row.
The awards are based on a Bayesian algorithm called PowerScore™. PowerScore™ tracks average review ratings and the total number of reviews written about the dealership across multiple categories on the DealerRater.com website. These categories include customer service, quality of work, friendliness, pricing, and overall experience.
Dealers must meet several criteria to be eligible for the award. They must receive a minimum of 25 reviews in a calendar year, receive an average minimum star rating of 4 out of 5 and receive at least one new review per quarter. The service also maintains a "dealership blacklist," and dealers must stay off the blacklist to remain eligible. Their PowerScore™ must also place them in the top 10% of dealerships.
"We put our customers first, and will continue to do so," says Nick Pentas. "We are honored to receive this award and will continue to pursue the practices that have gotten us here—namely, our commitment to giving our customers the best, or nothing."
The program is a compliment to the DealerRating.com "Dealer of the Year" award program. For more information, visit www.dealerrater.com or www.mbotw.com.