Linked by a Commitment to Craftsmanship and Quality, AMG® Mercedes Partners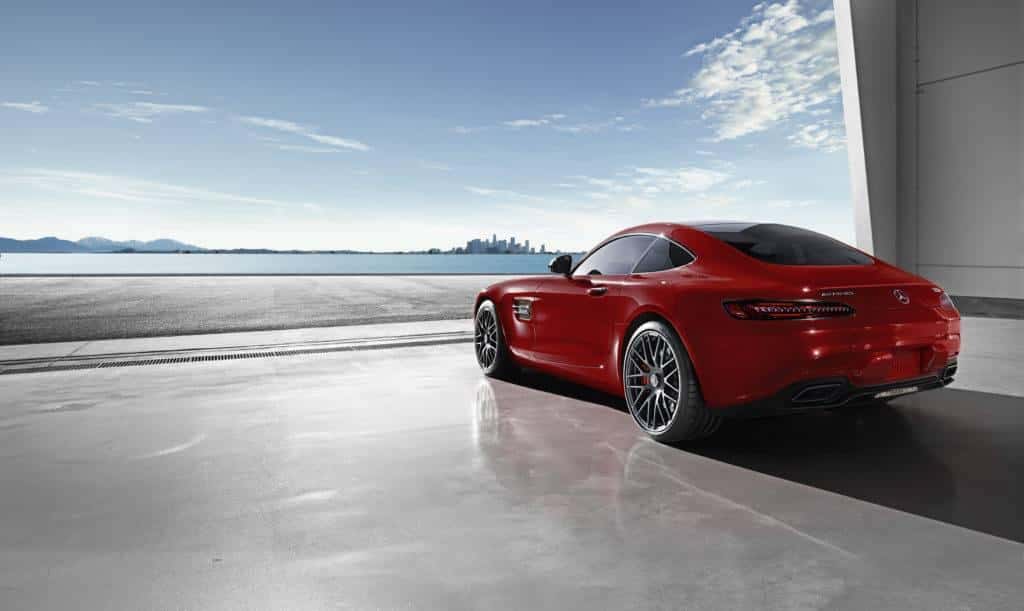 AMG® Mercedes, the high-performance brand of Mercedes-Benz, is known for brilliant engineering, high performance engines, and luxurious hand-crafted details. It's no surprise that other companies and brands have been inspired by such fine attention to detail and iconic design.
Several companies have teamed up with AMG® to offer special products and experiences inspired by the high-performance vehicles. From wristwatches and mountain bikes and race boats and motorcycles, here's a list of some of the unique partnerships that AMG® Mercedes has forged over the years.
1. IWC Schaffhausen
Swiss watch manufacturer IWC Schaffhausen has been producing iconic timepieces since 1868. The company has gained an international reputation for being one of the world's top luxury watch makers.
IWC crafts masterpieces that combine high technology and craftsmanship. Just like AMG® vehicles, IWC prides itself on creating a product that has a unique character and commitment to technical excellence.
Since 2004, the two brands have been linked by a successful partnership. The IWC AMG® wristwatch edition includes the Ingenieur Automatic AMG® Black Series Ceramic, inspired by AMG®;s ceramic disc brakes. Other AMG®-inspired watches include the "Nico Rosberg" and "Lewis Hamilton"
named for champion Mercedes AMG® PetronasFormula 1 drivers.
Some of IWC also shows up Mercedes' vehicles too, such as the IWC analog clock in the cockpit of selected AMG® models.
2. Cigarette Racing
Two legendary brands that share a passion for speed (one on land, the other on water), Mercedes-AMG® and Cigarette Racing, have joined forces for six consecutive years to design some of the fastest boats on the planet.
The two recently partnered to design Cigarette Racing's fastest open performance center console powerboat yet. The 41' SD GT3 embodies each brand's commitment to innovation and craftsmanship.
The Cigarette Racing Team 41' SD GT3 boat, inspired by the Mercedes-AMG® GT3 racecar, includes cutting-edge racing technology, awe inspiring performance and stunning design. The fruits of this most recent collaboration was unveiled at the Miami International Boat Show.
The Cigarette Racing Team 41' SD GT3 is powered by a pair of Mercury Racing 1100 HP engines with NXT6 Drives. The 41' long and 11' beam boat is able to achieve an estimated prop limited top speed of more than 100 mph.
The design and fittings of the boat are inspired by the Mercedes-AMG® GT3. The handcrafted interior and exterior features matte finishes and trim, a solid teak wood floor and a full extreme marine-grade leather interior with seats that sport the AMG® logo.
Mercedes-AMG® and Cigarette Racing began their collaboration partnership in 2007, primarily for organizing joint customer and marketing activities.
3. Petronas
The AMG® Petronas Formula One Racing Team is a successful and popular racing team. Mercedes has a long history in F1 racing and has collected more than 100 wins as an engine supplier, and is ranked fourth in Formula One history.
Mercedes has become one of the most successful teams in F1 history having achieved back to back drivers and constructors titles in 2014 & 2015. Currently, top drivers Nico Rosberg and Lewis Hamilton lead the AMG® Petronas Formula One Racing Team. Since joining the team in 2009, Rosberg has won 14 Grands Prix and 22 pole positions. In 2014 and 2015 Rosberg came in second behind team mate Lewis Hamilton in the Formula One World Championship.
Petronas, which is the acronym for Petroliam Nasional Berhad, is a multinational petroleum corporation owned by the Malaysian government. It is engaged in a wide spectrum of oil and gas operations, including: exploration and production, oil refining, marketing and distribution.
Petronas struck a sponsorship deal with the Mercedes-Benz racing team in 2010. Two years later, AMG® was added to the team's name.
4. Santoni
In case you need a pair of shoes or a bag that matches your AMG® vehicle, high-end Italian shoe label Santoni has you covered.
Just like AMG®, Santoni also is known for its perfection in craftsmanship, high quality materials and attention to detail. Santoni utilizes handmade leather stitching and multiple layers of dyed leather in order to create one-of-a-kind shoes.
"Santoni for AMG®", an exclusive collection of leisure and racing shoes is inspired by AMG® models. Styles include: sporty low-top sneakers enhanced by a GT logo; leather combat boots, a backpack, belt and wallet inspired by the off-road G 63; an A45 sneaker inspired by the A45 AMG® car.
5. Rotwild
German cycling company Rotwild has developed and built exclusive premium quality mountain-bikes, road racers and pedelecs in Hessen, Germany since 1996.
Rotwild's bikes have been used in numerous competitions including World Championships and the Olympics.
Rotwild's engineers extensively research and develop each of their bikes, which are held to the highest standards in quality. The Rotwild GT S-inspired by AMG® is power and luxury on two wheels. The high-performance mountain bike borrows its paint job (solarbeam and carbon black) as well as its light-weight design from the Mercedes-AMG® GT.
6. Kempinksi Hotels
Luxury hotel group, Kempinski offers its guests unforgettable stays coupled with exquisite European flair in places such as Berlin, Munich the Bavarian Alps and beyond.
It's growing collection of hotels include Hotel Vier Jahreszeiten Kempinski München, Kempinski Hotel Berchtesgaden and Hotel Adlon Kempinski Berlin.
The hotels share with Mercedes-AMG® a passion in every detail, exclusivity, enthusiasm for quality and the desire to always offer something more than others.
Since 2015, Mercedes-AMG® has provided the hotels with various performance vehicles for shuttle services and transfers. In addition, guests have the opportunity to test drive the Mercedes-AMG® GT S. The sports car can be test-driven from the hotel on highways and roads for up to two days.
Sources: