10 Historical Facts About Mercedes-Benz High-Performance AMG® Line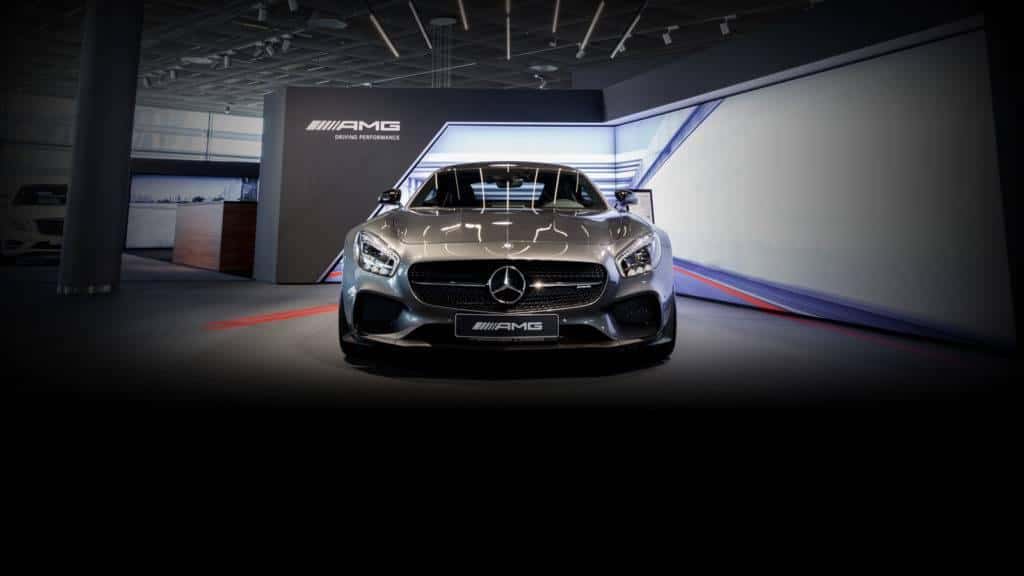 1. What Does AMG® Stand for?
In 1967 friends and engineers Hans-Werner Aufrecht (the A in AMG®) and Erhard Melcher (the M in AMG®) created their company after building their first Mercedes-Benz 300 SE for the German circuit racing championship inside an old mill in their hometown of Großaspach (the G in AMG®). The first car was a "tuned-up" version of the 300 SEL 6.3. The pair reduced the weight of the car and increased its power by 178 horsepower.
2. How Fast Are They?
gullwing
3. What was the First AMG® Mercedes-Benz?
AMG® and Mercedes-Benz create their first vehicle collaboratively in 1993. The C 36 AMG® was the first mass-marketed Mercedes-Benz AMG®. Two years after its production in Germany the C 36 AMG® became the first AMG® model available in the United States. The C 36 had limited production with fewer than 1,000 cars made over three years.
By 1997 it became AMG®'s first big hit with 5,000 models sold. The AMG®/Mercedes-Benz partnership crystallized in 1998 when DaimlerChysler acquired a majority of AMG®.
4. What's AMG®'s Link to Motorsports?
Racing is part of AMG®'s DNA. The company's founders built their first Mercedes-Benz specifically for motorsports. Since 2012, AMG® has been the nameplate on a championship Formula 1 team with star drivers including Lewis Hamilton and Nico Rosberg. The Mercedes-Benz AMG® Petronas team has garnered nearly 50 race victories and six Constructors' Championships and Drivers' Championships combined.
Mercedes-AMG® also has a DTM (Deutsche Tourenwagen Masters) Team, headed by Pascal Wehrlein. This European sedan racing series is sometimes called "NASCAR with a German accent."
5. Learn From the Pros
As an AMG® owner you can get the chance to take the vehicles for a spin around the racetrack with a free one-day AMG® Driving Academy lesson.
The experience includes special driving training from a group of professional instructors and the chance to drive some of the newest, most thrilling AMG®s, such as the all-new AMG® GT S. It is designed to enhance your driving skills as well as your knowledge of AMG® vehicles.
6. How Popular are AMG®s?
The United States is the largest market in the world for AMG® models. Around 11,300 AMG®'s are sold here each year. Last year AMG® sold nearly 70,000 cars world wide. There are 38 AMG®-badged vehicles available and that number continues to grow.
At least 10 more AMG®s will be released by the end of this year and sales are expected to grow even more. On the horizon are coupes, sedans, convertibles, SUVs and even a rumored supercar inspired by the AMG® Mercedes-Benz F1 car.
7. Where are AMG® Mercedes-Benz Vehicles Built?
The home of AMG® is in Affalterbach, German — a small town northeast of Stuttgart in the state of Baden-Wüttemberg. Engineers here pour everything into the development of new AMG®s. These vehicles are not just Mercedes-Benz vehicles, with more horsepower. They are designed and built from the ground up, often featuring unique body styles and components that enhance driving performance and aerodynamics.
8. Who Builds AMG®s?
Inside the factory for AMG® high-performance engines there are hundreds of master engine builders who individually assemble each AMG® engine. This "one man — one engine" philosophy helps ensure that engines meet the highest demands and can perform over the long lifespan of the vehicle.
The signature of the AMG® master builder responsible for putting your engine together can be found on the engine plate.
9. So What Exactly is Under the Hood?
Twin-turbo V-6, V-8 and V-12 engines are the norm for AMG® Mercedes-Benz. AMG® even has built an all-electric version of its SLS Supercar and an AMG® hybrid/electric version is rumored to be in the works.
The V-8 engine is at the core of AMG® and Mercedes-Benz dubs it the "worlds most fuel-efficient V-8 gasoline." The new engine generation consists of the AMG® 5.5-liter V8 naturally aspirated engine and the AMG® 5.5-liter V8 biturbo engine.
10. What are My Options?
When designing your AMG® Mercedes-Benz, there are plenty of choices to make: matte or glossy paint; solar beam yellow or magnetite black. There are different styling packages and six wheel choices. You can even choose what color your seat belts are.
But the customization doesn't just end at paint and trim. AMG® Mercedes Vehicles also give drivers the option to customize their driving experience. AMG® DYNAMIC SELECT offers five transmission modes (comfort, sport, sport+, race, and individual.) These modes adjust suspension and steering and even can reduce or amplify engine and exhaust sound.
Sources:
http://www.emercedesbenz.com/photos/ten-interesting-amg-facts/?
http://www.mbusa.com/mercedes/amg#!layout=/amg/timeline&waypoint=timeline
http://amgmarket.com/amg/the-history-of-amg-mercedes-benz/
http://www.mbusa.com/vcm/MB/DigitalAssets/AMG_ThemePage/pdf/AMG_Brochure.pdf